Castle of Dreams
Laura and Sam made their fairy tale come true at Sudeley Castle in Gloucestershire
Photography: Anneli Marinovich
Sam is a big lover of history and castles, so when he popped the question to Laura during a sunset walk on the beach, the couple already had a pretty good idea of the type of venue to look for. "Sudeley Castle is so magical. When we saw the incredible crumbling castle ruins and the beautiful church in the stunning gardens, we were completely blown away," says Laura. "St Mary's Chapel, dating from the 15th century, was just perfect for our ceremony, sitting within the heart of the gardens, and we were so excited about getting married there." "I remember walking into St Mary's Chapel, seeing Sam at the front smiling, then singing Jerusalem after the vows and thinking how fast it flew by!"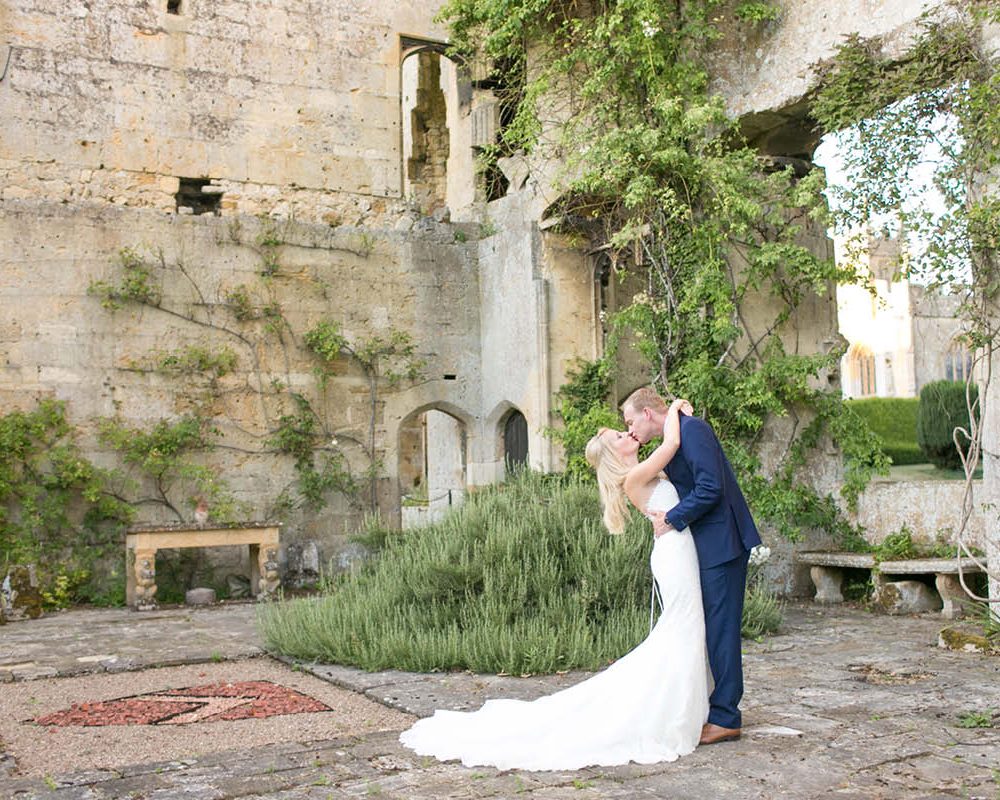 Say yes to the dress

Laura wanted to channel a fairly traditional look and, after many boutique visits, finally chose a dress by Pronovias. "I'm quite petite, so I knew it couldn't be anything too bulky – this design had a low back and an amazing long train with scalloped lace edging around the bottom. It ticked all the boxes and I had a feeling Sam would love it, too!" Her choice of shoes to go with it was a no-brainer. "Just a couple of weeks after Sam proposed, I went to Bicester Village and tried on the most spectacular pair of Jimmy Choo heels – I just had to have them! It was the easiest decision of my wedding planning."
Little details
"I made a lot of the stationery, signage, table plan…, the list goes on. as a design teacher (and perfectionist!), it was important for me to put a personal stamp on the day"
Soft touches

The colour scheme was soft green, white and gold and the couple's close friend Tova, an artist, used this to design the flowers, including a huge arch inside the castle.
Many hands make light work

To create their visually stunning day, friends and family were all on standby to help. Laura's close friend Beth sang Adele's 'Make You Feel My Love' during the ceremony; Sam's stepfather made plinths for the flowers and the beautiful archway that was then decorated by a family friend, Tova (who spent the whole week before designing all the flower arrangements). And Sam's mum, Janet, made the cake which was five fabulous tiers of fruit cake that Laura decorated herself with a simple rustic icing.
Laura and Sam kept numbers for their wedding to just 70. "We decided against inviting additional guests for the evening," says Laura. "We just wanted our closest friends and family on the day and, importantly, those who knew us as a couple and both of us had met. Plus, we had to include our darling dog, Charlie, who wore a bow tie to match the groomsmen and posed for photos with us.
Top tip

"If we could do it all again, we'd probably not get stressed about all the intricate details. The only people who know exactly what is supposed to happen and when are the bride and groom, so if a flower is out of place or the speeches are slightly delayed no one minds and no one will notice!"