Pretty in Pink
Vivienne and James set out to create an atmosphere of relaxed elegance at their fun, flower-filled celebration in Somerset
Photography: Anneli Marinovich
The moment they set eyes on Brympton House, Vivienne and James knew it ticked all their boxes. "It was significant, but not showy, and there was a different area for every part of the day, which meant the flow of guests from one space to the next was really natural," says Vivienne. 
"We're both very classic in style, but didn't want the day to feel stuffy or pretentious. My first thought on colours was pink, but Jamie didn't want anything too overpowering or Barbie. So we chose a soft, nude pink for the bridesmaids and a mix of pink, white and lovely foliage for the flowers."
For her dress, Vivienne chose Ronald Joyce. "I was torn between a fishtail and ballgown. I wear a lot of pencil skirts and dresses so fishtail was very much my style, but when else do you get to wear a silk ballgown!" As it was an old house, they also went for traditional tails for the groomsmen. "Finding quality, mid-grey tails was quite hard, until we discovered Neal & Palmer," says Vivienne. "These guys have a wonderfully quaint shop in an arcade just by Piccadilly Circus, with winding narrow stairs and racks and racks of wonderful fabrics, waistcoats and suits. It was a real find!"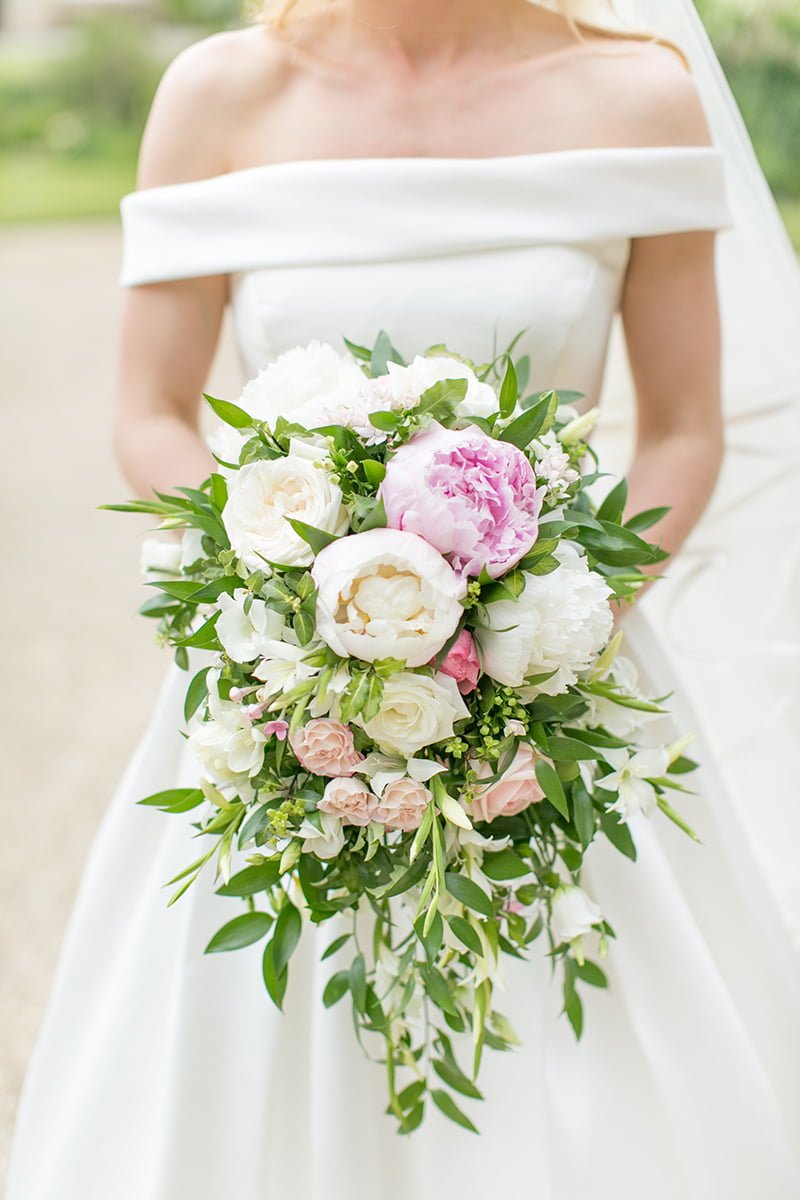 Detailed designs
All the stationery for the wedding was designed by their friends Violet and Oscar. "We wanted to incorporate elements of the venue into it," explains Vivienne. "For example, the room where we cut our cake had a wall of antlers, so our logo featured antlers and flowers. I chose the font and we got inspiration from blogs and magazines. The table plan was a drawing of the side of the house, and each window had two panels that opened to reveal who was sitting at which table. It was really well designed and painstakingly built."
For Vivienne, the right flowers were absolutely key. "I adore flowers – it was one of the reasons we got married in June – so we went for classic, romantic and scented roses, peonies and stocks with a mix of sizes and tones to make them feel modern, too.
"Emily, our florist, made the most of our flowers by using the same arrangements in each different space. And as we were going on honeymoon the day after the wedding, we were able give these to our friends and family as a thank-you gift!"