So Spa so Good
Take yourself off to one of these luxurious spa getaways from Lime Wood in Hampshire to The Corinthia Hotel in London, and have a well-earned break from all that wedding planning…
The hotel: This is a hotel designed to compete with (if not trounce) all those cool Soho hang-outs in London. But Lime Wood is just up the road from the quaint country village of Lyndhurst and is all about fusing a modern vibe with a bit of country charm. And here it is done absolutely seamlessly. When I arrived I sank into one of its deep, wine-red leather sofas and it was all I could do to ever get out of it again, so content was I to sit and drink in the beautiful surroundings. 
The spa: With private bathrooms containing deep copper baths, a pretty rooftop garden and fantastic woodland views from the pools and steam rooms, this spa is the perfect secret garden hideaway. The Full Pedicure, £60, includes removal of dry skin and a foot massage we didn't want to end. There's also Raw & Cured, the spa's food bar, where you can have a Japanese sushi roll filled with veg, or perhaps some cured meat or fish from the hotel's own Smoke House. Whatever you choose, it'll be fresh and leave you feeling full of energy. 
The price tag: One night for two starts from £345 without breakfast. Facials start from £105. limewoodhotel.co.uk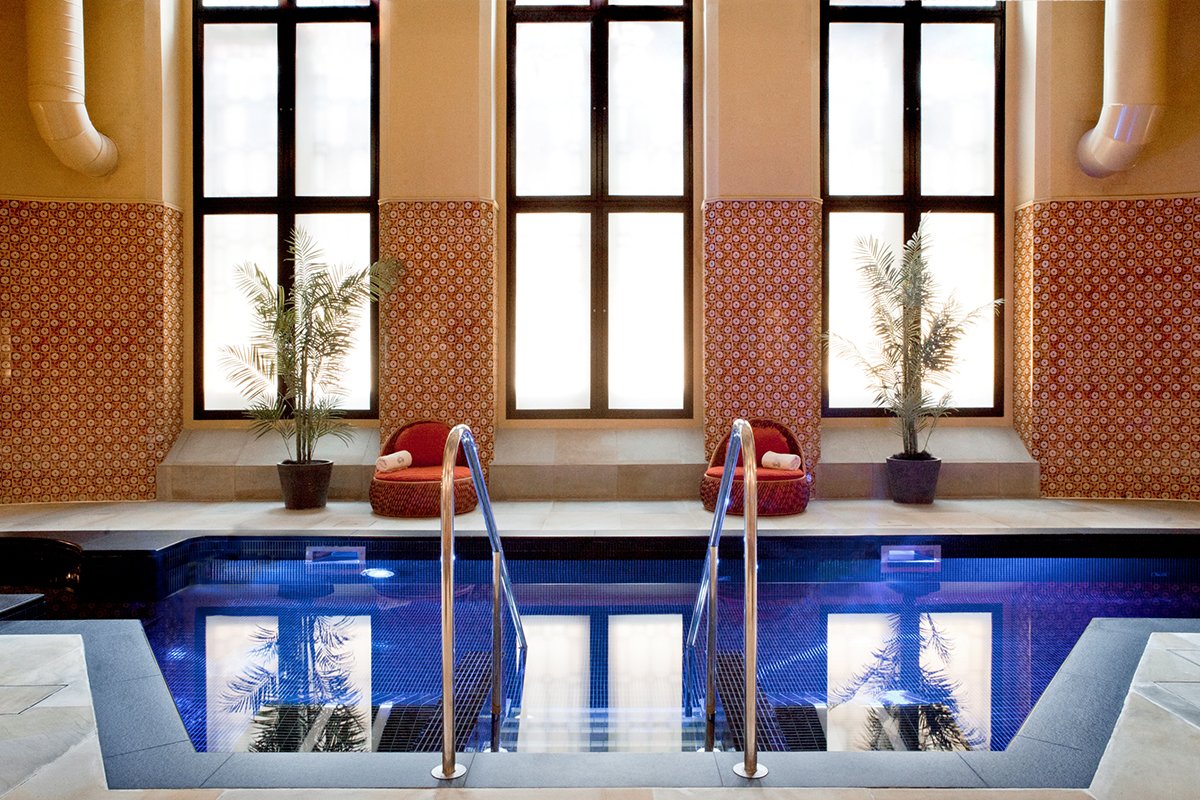 The hotel: Just under 20 years ago, this building was a disused Gothic pile in the King's Cross area. Now, after a £200 million refurbishment, this section of the old railway station has been re-imagined as a fabulous five-star hotel. With the West End nearby, it's perfect for a night away with your bridesmaids.
The spa: The St Pancras Spa retains the Victorian features of the building itself. If you're after a little pampering along with a light, healthy lunch, book in for The Lunch Escape, which includes full use of the spa facilities, a 60-minute aromatherapy treatment, two-course lunch and smoothie, from £140. Or book in with your fiancé and have your treatments in the couples' treatment room.
The price tag: One night for two starts from £250 without breakfast. Facials start from £105. stpancraslondon.com
The hotel: Bath isn't short of grand, sweeping streets lined with Georgian townhouses and it is behind one of these beautiful, Grade I-listed façades that you'll find one of the city's newest editions to the spa-hotel scene. This is a wonderfully eclectic hotel, where collections of interesting finds from antique fairs, graduate degree shows and specially commissioned pieces of art give it a gallery feel. 
The spa: Spa 15 is hidden in the vaulted area beneath the hotel. The bare, stripped-back stone, marble stairs and hallways, along with clever lighting and pretty pastel fabrics, create fresh, airy surroundings where you can happily slosh around in the cedarwood hot tub, and unwind in the sauna before having your treatment. We went for the Ila Energising & Detoxifying Scrub, £95 for 60 minutes, which uses Himalayan salt crystals to smooth the skin and banish toxins. This is perfect for brides wearing a backless dress as your entire body is impossibly silky smooth afterwards.
The price tag: One night for two starts from £149 and includes breakfast. Facials start from £95. no15greatpulteney.co.uk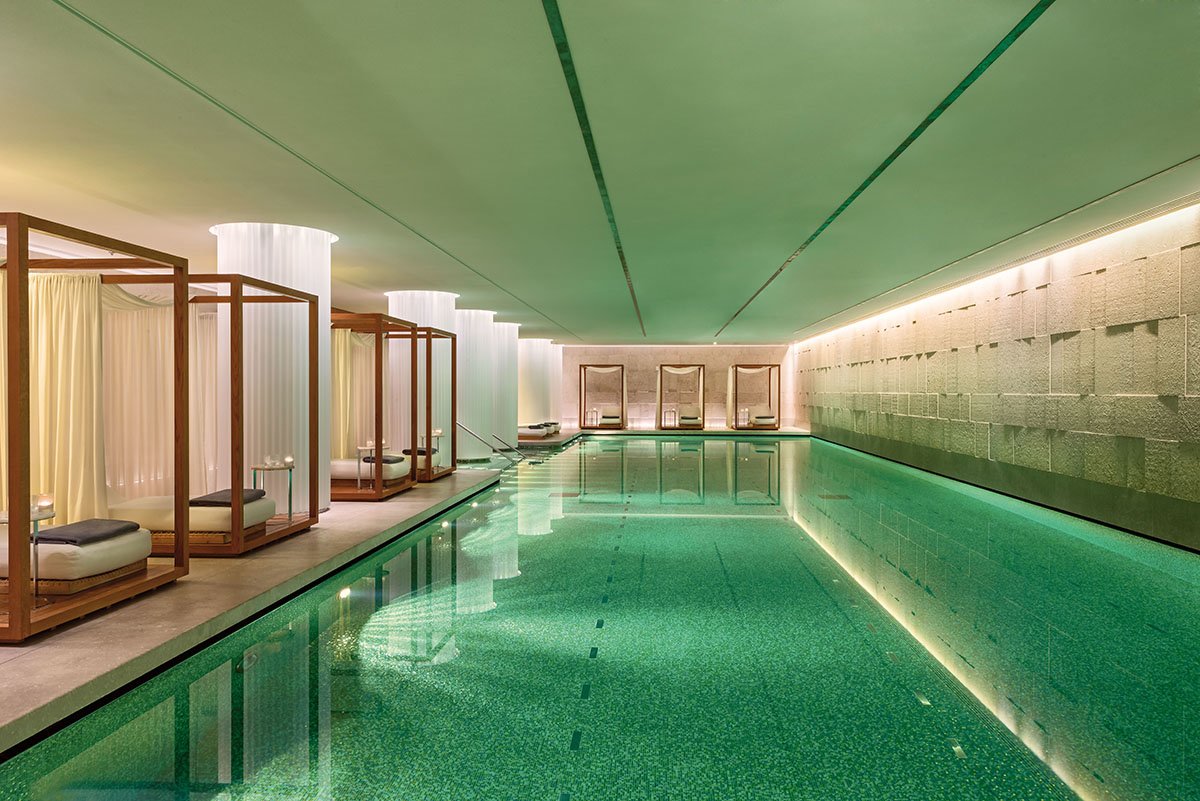 The hotel: Minimalist chic is what Bvlgari does best, so your search for modern elegance stops here. The hotel was built in 2010 and has an imposing façade of Portland stone that reflects the sleek, black, silver and marble decor inside. This is the kind of place a guy will feel comfortable in, so it's perfect for pre-wedding pampering with your groom.
The spa: Make sure you arrive early so you can fit in some swimming – at 25m long, London's biggest hotel pool. Lined with tiny moss-green and glittering gold mosaic tiles, it has a peaceful, subterranean vibe. Treatments are seamless here. We particularly enjoyed the 90-minute Coconut Body Experience by Jax Coco, £270, where hot stones are heated and used to massage the body, oils applied, showers prepared. We loved that the treatment ended with a shampoo and blow-dry at the hotel's Neville salon. Ask for Aphrodite who, with her styling skills, is the goddess of blow-dries.
The price tag: One night for two starts from £550 without breakfast. Facials start from £140. bulgarihotels.com
The hotel: We have a bit of a penchant for historical hotels, like this. It's something about the satisfying thud of the wooden doors when you close them, flagstone floors worn by the many feet that have passed over them, not to mention giant fireplaces that make everything so cosy in the winter.
The spa: In contrast to the rest of the hotel, Gaia Spa is all glass and minimalist white interiors. Inside, you'll find a Finnish sauna, an aromatherapy steam room, a laconium and a herbal sauna. Treatment wise, we went for the Lift & Firm Facial, £105 for 90 minutes, which uses three lifting massage techniques as well as Super Active products to tone and contour the face. The whole spa experience was so relaxing that we could hardly raise ourselves to go and check out the Spatisserie afterwards. We're glad we did though as we tucked into creamy yogurt topped with the hotel's own lavender honey while looking out over Dartmoor. It really doesn't get much better than that!
The price tag: One night for two starts from £165 and includes breakfast. Facials start from £85. boringdonhall.co.uk
The hotel: With glittering chandeliers, floor-to-ceiling windows and exquisitely furnished interiors, when it comes to sumptuous decor the Corinthia would challenge even the royal palace just a stone's throw down the road. This is the sort of glamorous setting you might want to hang out in with your maid of honour.
The spa: As you descend into the Corinthia's ESPA Life spa, everything becomes darker and more tranquil. You can almost feel yourself exhaling and relaxing. There's a pool just big enough for a few lengths and tiled concrete beds in the hot rooms that you could spend all day relaxing on. The ESPA treatments are fabulous – if you're looking for a little pick-me-up for sallow skin, try the Refining Enzyme Facial, £190 for 90 minutes. 
The price tag: One night for two starts from £400 plus VAT and includes breakfast. Facials start from £140. corinthia.com
The hotel: This secluded Elizabethan hotel is all about bare stripped floorboards, informal dining around trestle tables and rustic charm. It sits in 3,500 acres of lush green countryside, which is just asking you to put on wellies and head off for a long walk. It may not offer five-star glamour, but it is a fantastic place to relax and get away from all the stresses of wedding planning.
The spa: Wander down to the walled infusion garden and you'll find two cosy-looking Potting Sheds, which have been transformed into treatment rooms offering a range of Piggy treatments. We love that they use Bamford products (see our Clean Beauty story, page 71) – the aromatic, British-made potions fit perfectly with the simplicity of this set-up. Go for the 90-minute Jade Hot and Cold Stone treatment, £110, which uses the stone's heat-retaining and energy-conducting properties to massage organic oils into your face and body.
The price tag: One night for two starts from £155 without breakfast. Facials start from £80. thepighotel.com