What A Picture!
A colourful theme celebrating pastels and rose gold – plus a passion for Polaroids – gave Raye and Robin a summer sensation in West Sussex
Photography: Jordanna Marston
Fun photos on the tables were just some of  the personal touches Raye and Robin used to decorate their venue, Upwaltham Barns in West Sussex, and they had plenty of help on hand to do it. "My engagement ring is rose gold with a beautiful pale pink morganite stone, so these were our accent colours," says Raye. "We also wanted to make the day all about friends and family (and Rob is a Polaroid photo fanatic!) so we included lots of pictures and based our table plan around photos. Pretty much all of our decor was done by us and my Mum and Dad.
Our families all played a huge part in getting crafty for the big day. We made lots of signs and frames and an order-of-the-day board using stencils and lettering that we sprayed rose gold ourselves. My Dad also helped me make our lovely seating plan with MDF, blackboard paint, light bulbs and lots of Polaroids." The couple made their own stationery, too. "Rob has to take the credit for that! I had something in mind, but he was the one who made it happen. We asked a brilliant illustrator to create the character drawing of the two of us that went on the invites and our CD wedding favours."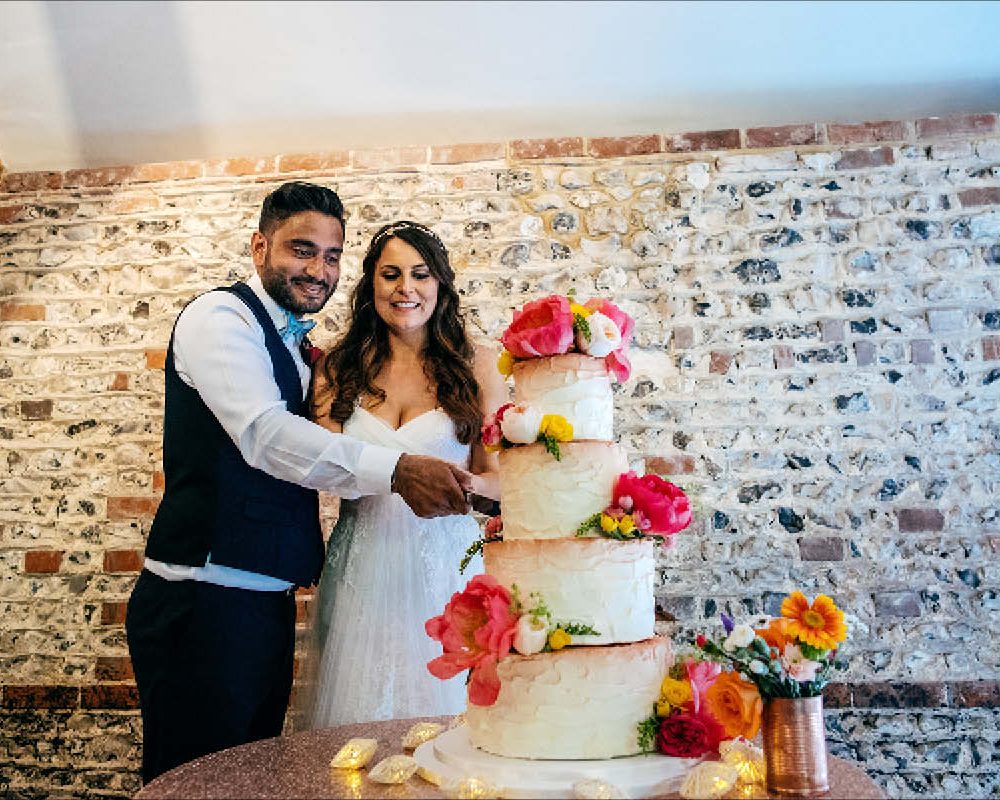 Flower Power

"My bouquet was incredible – a mix of peonies, roses and other brights, set off with zingy foliage," says Raye.  "On the day, our florist Kerry also supplied two amazing heart-shaped wreaths for the barns. To cut costs we provided our own centrepiece flowers and other vases and tins of flowers around the venue using a mixture of flowers bought from a florist and supermarket bunches that we arranged the day before in simple vases."
Happy Days
"Our place names doubled as favours…CDs featuring our favourite songs. It was so lovely to get messages in the following weeks from people who were playing the CDs in their cars!"
Fabulously Floral

"Our ceremony arch and aisle chair ends featured eucalyptus and rosemary with white and cream roses, hydrangeas and anemones"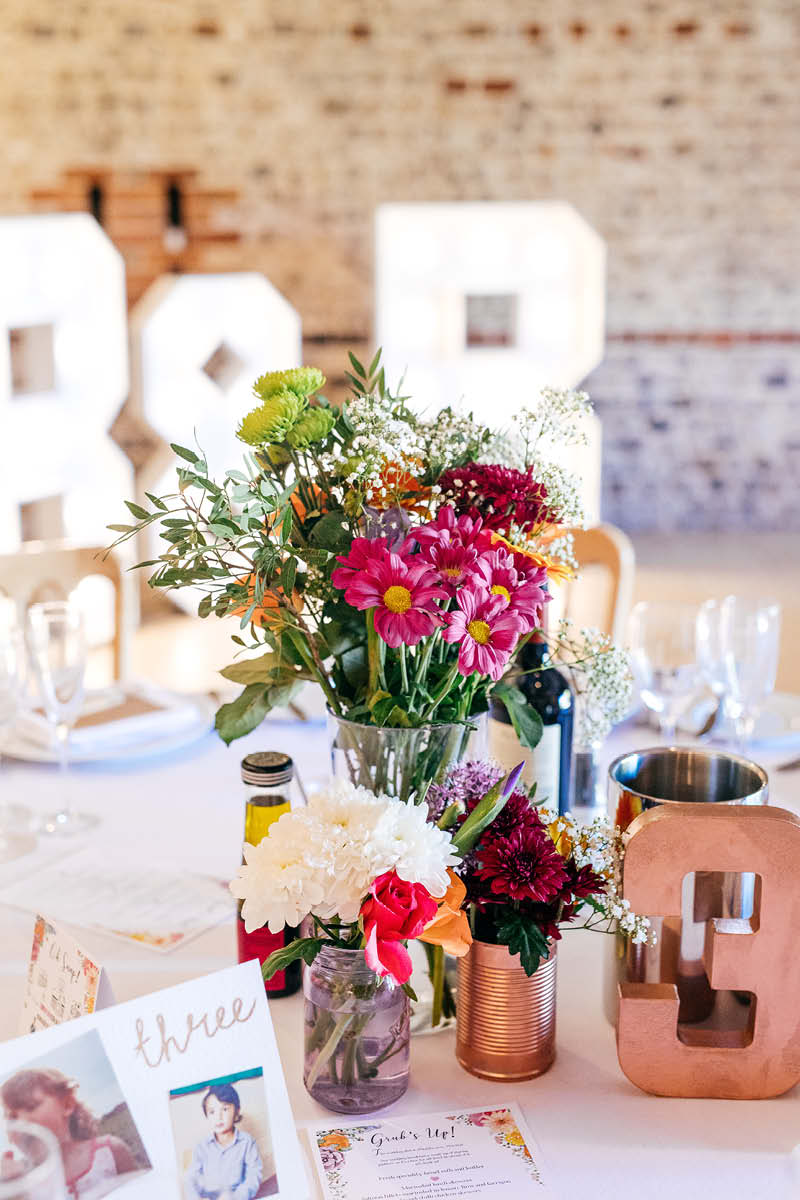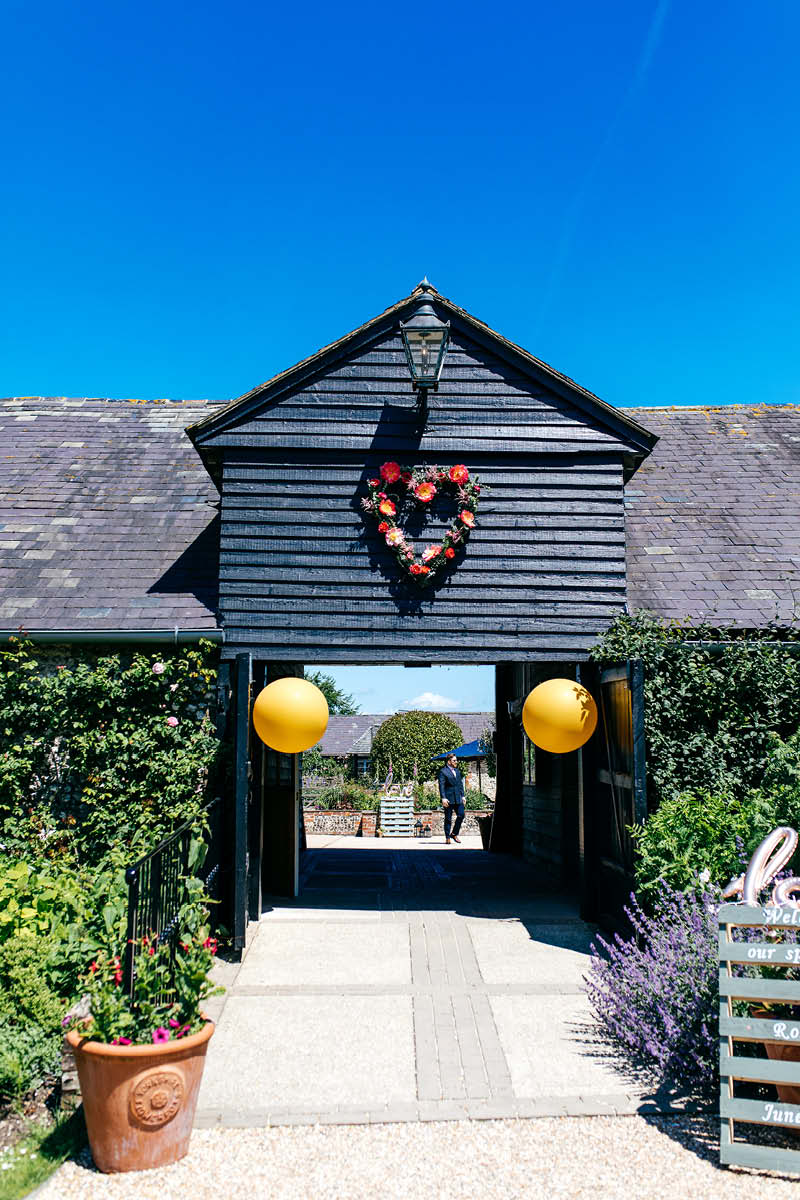 Sharing the Love

"We love good food and drink and most of our socialising revolves around sharing lovely food with family and friends," says Raye. "So we went with a barbecue menu of marinated lamb skewers, sweet chilli chicken skewers, salmon fillets marinated in lemon, lime and tarragon, a lettuce, pine nut and chorizo salad with Parmesan, homemade coleslaw and buttered baby new potatoes. It was relaxed, but still served at the tables, which meant that there was that social element of passing food around and sharing platters." And just in case that wasn't enough food for everyone, in the evening, they booked a pizza van. "The lovely people at Pizza Amore served the most amazing wood-fired pizza in a vintage van – and everyone loved it!"
Top Tip

"We worked together as a team to create the day. Definitely don't be afraid to ask for help, although it can be hard to relinquish control!"